The complete range of pool waterproofing at the Piscina & Wellness Barcelona fair
During the event, we will showcase our entire range of solutions for pool waterproofing with reinforced membranes or mortars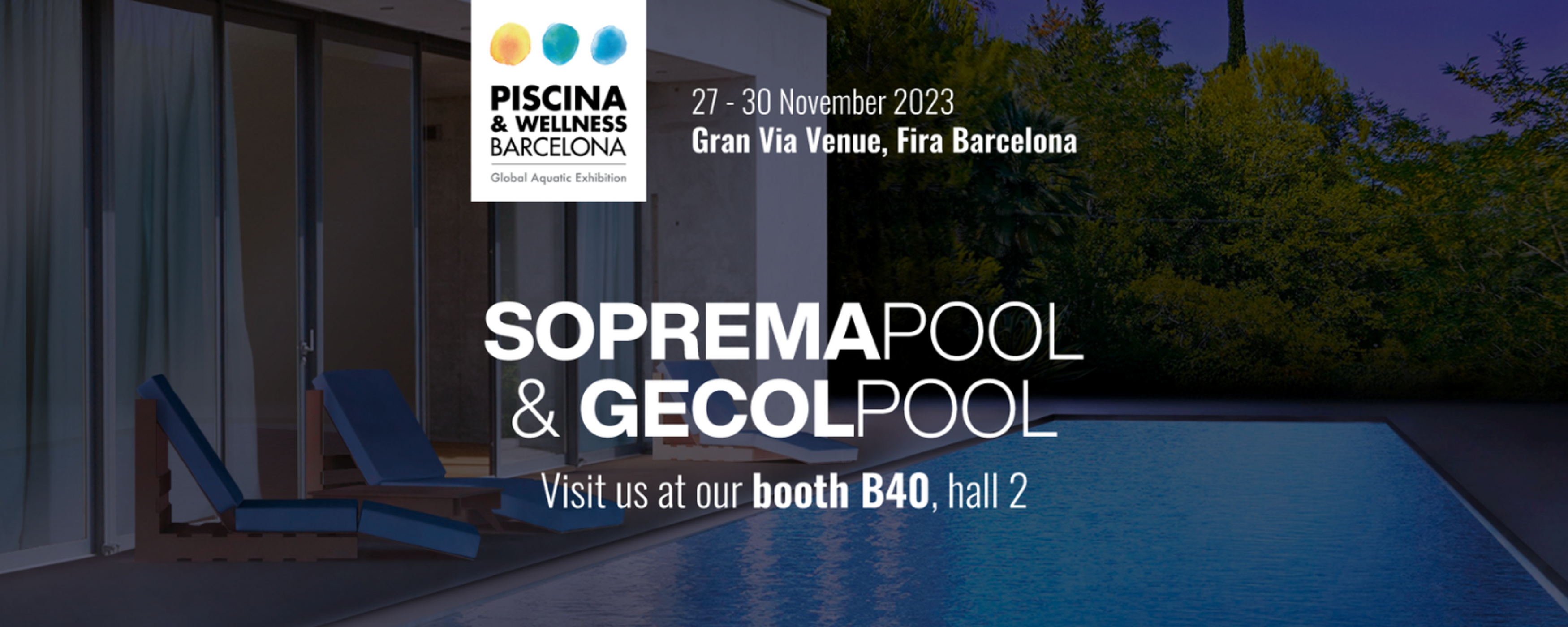 Once again, we will be attending the Piscina & Wellness Barcelona event, which will take place at Fira Barcelona, in the Gran Vía venue, from November 27th to 30th. You will find us at Booth 40 - Hall 2, and for the first time, we will be exhibiting our two product lines for pool waterproofing and coatings in the same booth: SOPREMAPOOL and GECOLPOOL, presenting ourselves as a comprehensive provider for pool design and waterproofing.
SOPREMAPOOL
SOPREMAPOOL is the range of reinforced PVC membranes, specially designed for waterproofing and coating pools. It is a product that can be installed quickly and comes in a wide variety of colours, designs, and textures. It is ideal for both new construction and renovation.
The SOPREMAPOOL collections, which will be on display at the event, are divided into:
All SOPREMAPOOL reinforced membranes are composed of 4 layers with exclusive varnish integrated into each of them, resulting in greater durability and resistance to colour fading, chlorine, stains, and microorganisms.
GECOLPOOL
GECOLPOOL offers waterproofing and pool coating solutions with systems consisting of waterproof mortars, adhesive mortars, paints, and sealants that adapt to all types of water and finishes.
The GECOLPOOL systems are mainly divided into:
CONSTRUCTION: Suitable for concrete or resistant mortar support in concrete or saltwater pools, available in ceramic or acrylic finishes.
FIBER: Specifically designed for prefabricated polyester and fiber pools. The system includes GECOL Elastic-PU, a two-component polyurethane adhesive.
EPS: Systems suitable for the construction and renovation of pools with EPS and EPS graphite thermal blocks. These types of pools are highly resistant, durable, lightweight, and easy to install.
Virtual Reality App
SOPREMAPOOL will also introduce the new virtual reality application: SOPREMAPOOL AR. It is an augmented reality tool that allows you to customize the pool and visualize its final finish in the location where it will be built or renovated. With a few simple customization steps, you can see the finish on the ground and get a detailed understanding of how much material is required for installation.