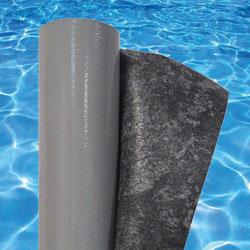 SOPREMAPOOL 3D
SOPREMAPOOL 3D is a PVC-P synthetic membrane for swimming pool reinforced with polyester scrim, nominal thickness 1,5 mm (Spirit Ceram) and 1,8 mm (Sensitive) with special "3D" slightly embossed decorative finishing. Manufactured with double varnish (in the mass and on the surface) for maximum protection, by cast process according to European standard EN 15836-2 (2010). SOPREMAPOOL 3D has been tasted for slip prevention according to the European standard EN 13451-1 (according to annex B of EN 15836-2) and DIN 51097 (1992).
Description
APPLICATIONS

For new or renovation of existing swimming pools
• On any kind of support concrete, cement, steel prefab panels
• On incompatible support (resins, polystyrene panels etc.), provide the positioning of a special Soprema separation geotextile
• The pool water temperature must never exceed 32°C.

SETTING
The welding of SOPREMAPOOL 3D must be performed with hot air Leister gun. For a correct welding, the edge of the liner must be clean and dry.

CLEANING
Do not use aggressive products to clean SOPREMAPOOL 3D, they may damage the liner and remove the surface decorative finishing. It is advisable to use a soapy water solution and avoid using abrasive products.
Proper water treatment must be guaranteed for the entire service life of Sopremapool membrane.  
Implementation
The SOPREMAPOOL 3D is delivered in rolls, laid on wood pallets, protected, separated and externally wrapped with polyethylene sheets. Rolls should be stored horizontally in their original packages, in a dry and temperate area (10-30°C). The rolls must be protected by humidity and atmospheric agents (sun, rain etc.)